Industrial receiver with externa antenna
Industrial machinery and industrial vehicles are large metallic masses that allow them to withstand hard working days, move, move and lift large amounts of weight and travel long distances. Many times the manufacturers of said machinery seek to provide their products with homogeneity and a good finish using accessories and metal drawers and all of this inadvertently becomes a Faraday cage.
The Faraday cage is, in its essence, a large box of metallic material whose purpose is to shield its interior against electromagnetic waves from the outside, that is, against radio frequency. For this reason, if we install a radio frequency receiver between large metal structures or metal enclosures, the radio waves emitted by the remote control do not reach the receiver inside it correctly.
To help mount our industrial receivers in metal boxes, we offer a receiver with an external antenna. The receiver can be installed anywhere and the external antenna can be removed from the metal enclosure, allowing maximum reception gain.
Internal antenna?
The receiver has an internal antenna that makes it possible to obtain a compact and small-sized product, it is a high-gain antenna that allows receiving the control signal without problems in industrial environments. The exterior finish of the receiver is simple and it can be installed outside or inside non-metallic boxes since the metal acts as a cage for the radio frequency.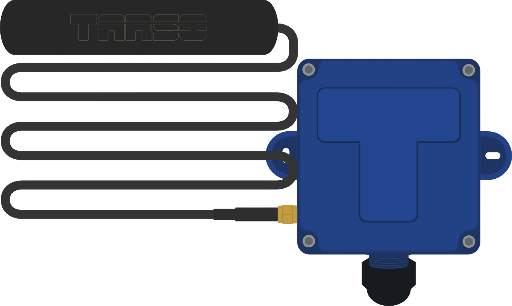 External antenna?
Sometimes it is necessary to install the receiver inside a metallic box for reasons of finishing the machine or protection and in these cases our external antenna shows its virtues. The receiver is manufactured with a small threaded terminal to connect the antenna cable, which can be installed where preferred and allowing the receiver to obtain the highest signal gain from the remote control even inside metal boxes.
What to take into account?
Planning
It is necessary to know what we need, we must choose between a receiver with an external or internal antenna, both do not work together.
Need for the antenna
The receiver manufactured with an external antenna needs said antenna to work, without it the reception distance would be null.
Setting-up
The antenna is supplied with a strong adhesive so that the antenna can be stuck to any smooth surface.
The cable of the antenna
It has a length of 3 meters from the terminal that we screw on the receiver to the antenna and cannot be modified.
Work environment
The purpose of the external antenna is to allow the receiver to be installed in a metal enclosure, it doesn't increase the reception gain.
Mounting kit
The external antenna comes pre-assembled, you only have to screw the female terminal of the cable into the male terminal of the receiver.

Can't find what you need?
Try the following...